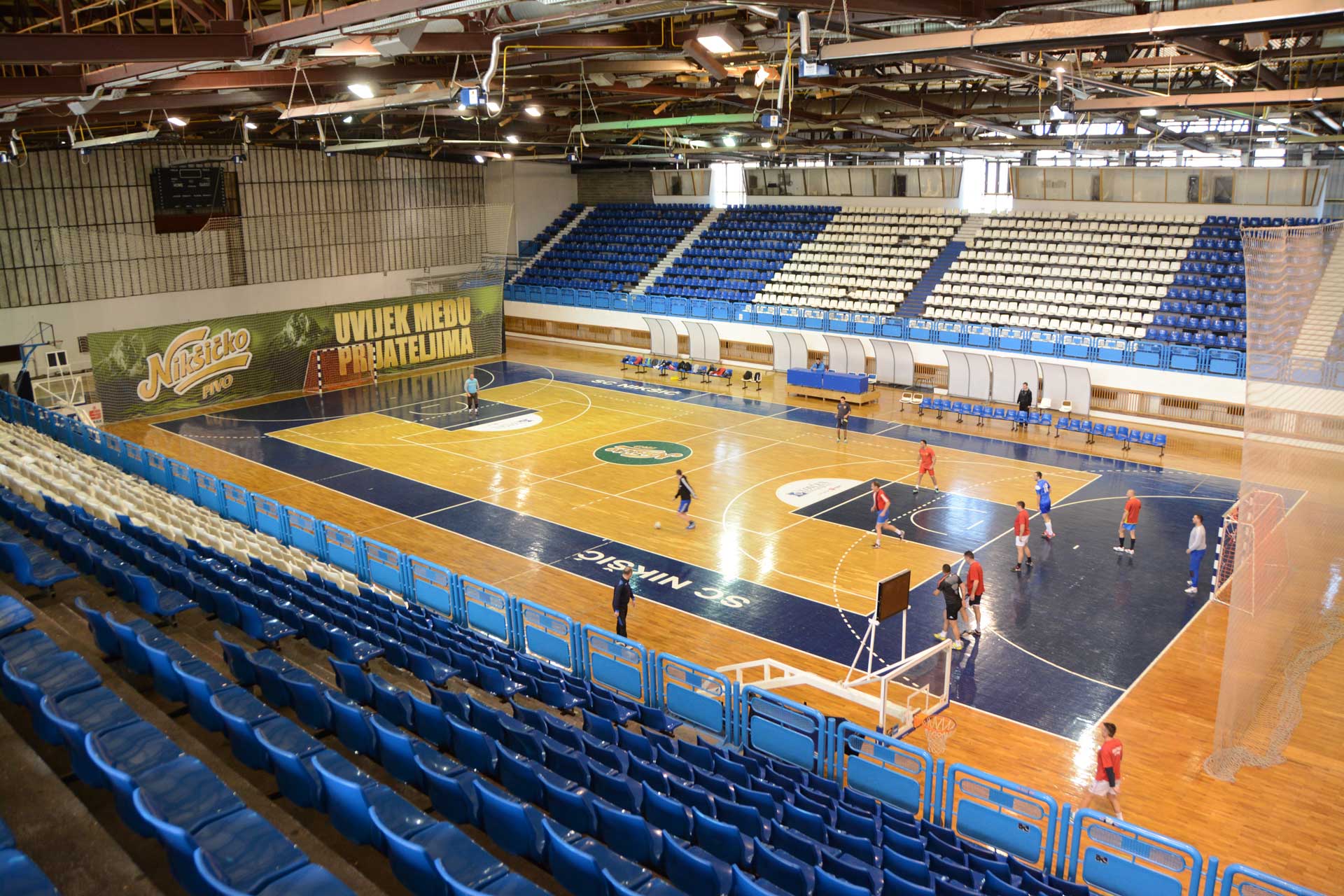 The 2nd stage of the SEGL – Champions League Division South 2022 will take place upcoming weekend in the city of Niksic, Montenegro. There will be played 15 games at the Sport Center Of Niksic between Fri 22nd – Sun 24th July. Check out the game schedule, results, team line-ups and referees by clicking here. Results will be updated also on SEGL Facebook page!
The Niksic stage is organized by Goalball Niksic and this is the first time when SEGL – Champions League stage is played in this small country. Goalball Niksic made its debut in SEGL – Champions League just two months ago in Prague, Chech Republic where the 1st stage of the division was played. Montenegro has rised explosively to the top of Europe in men's goalball; please listen our new EGCA podcast episode and learn how goalball has improved in Montenegro to this point that they can host now this kind of great and high level goalball competition:
All the games of the Niksic stage will be live broadcasted directly by the sport channel on national TV of Montenegro. Goalball TV YouTube channel will also livestreamed all the games of the weekend so you will not miss any second of this great goalball show!
Below you can read a preview of the Niksic stage. Please find all the results and scorers of the Prague stage by clicking here!
Stakes are really high because after niksic stage three best clubs of the division table will continue to the final stage of the SEGL – Champions League 2022 that will be held in Rostock, Germany on 28th – 31st October.
CURRENT STANDINGS AFTER THE 1ST STAGE
Position / Team / Games / Wins / Ties / Losses / Goal Ratio / Points
Chemnitzer BC / 5 / 5 / 0 / 0 / 64-28 +36 / 15
Goalball Niksic / 5 / 4 / 0 / 1 / 51-40 +11 / 12
ANDDVIS / 5 / 3 / 0 / 2 / 52-34 +18 / 9
ASD Omero Bergamo / 5 / 2 / 0 / 3 / 44-55 -11 / 6
CSAVH Lyon / 5 / 0 / 1 / 4 / 28-50 -22 / 1
GC Perun / 5 / 0 / 1 / 4 / 33-65 -32 / 1
PREVIEW
The tournament will begin on Friday evening when top 2 clubs of the Prague stage; Chemnitzer BC from Germany and the hosts will take on each other. Due the lack of travel options Chemnitzer BC must leave on Sunday morning so the team will have really tough schedule at the Niksic stage playing for example four games on Saturday. Chemnitzer has still really professional top goalball athletes like Oliver Hörauf and Felix Rogge in its roster so recardless the tough schedule the team is the strongest candidate to qualify for the final stage from the division.
Goalball Niksic has also great starting points to the tournament in its home court when they brought even 12 points home from Prague visit. Niksic roster is totally the same than in Prague and goalball fans are certainly waiting for outstanding performance from Nikolic-brothers who should secure tickets to Rostock for their team .
Top goalball athletes from Portugal = ANDDVIS and the fresh double champion of Italy ASD Omero Bergamo are the most likely candidates to reclaim also tickets to the final stage. These two clubs will take on each other at 11.50 am on Sunday and that game could give us finally the answer.
The semifinalist of last year final stage in Odivelas GC Perun from Czech Republic as well as the French club CSAVH Lyon have a huge mountain to climb if they dream to qualify for the final stage on this season. Both clubs earned only one point from the Prague stage when they played tie in their common match. GC Perun has really interested athletes in its roster; USA men's national team star player Calahan Young has joined the team and he certainly bring more fire power for Perun. There is also absolutely the youngest athlete in the SEGL history in Perun's roster, only 13-years-old Rudolf Kujan. CSAVH Lyon has the same roster than in Prague; the middle age of the team is 37 years, but it's not even the oldest because ASD Omero Bergamo has the record 43,3 years.
Everything is still possible in the division but one thing is sure even before the tournament; there will be great and high level goalball matches ahead so tune in and enjoy!